Join us in growing the global movement to restore soil!

Kiss the Ground was founded to tell the story of what's possible when we restore the world's soil. This is your opportunity to learn how to powerfully present on soil health and regenerative agriculture as solutions for climate change, water scarcity, and feeding the world healthy food.
When you participate in this course, you are joining an interconnected group of world changers who are starting new conversations and new actions based on a deeper understanding of THE POWER OF HEALTHY SOIL and REGENERATIVE AGRICULTURE.

Whether it is discussions at family dinners or international summits, this solution-oriented group will be equipped to usher in a new view that shifts the actions and outcomes of our future! You will learn how to compare degenerative, sustainable, and regenerative farming practices. We will also spend time working on techniques and confidence building tools for becoming a more dynamic and engaging speaker.
Throughout this course, we will be working to perfect YOUR presentation based on your personal and professional connection to healthy soil. This means helping you find your voice and building a toolbox full of techniques to tailor your custom presentation. We will have a guest speaker, a recorded field trip, and opportunities to get to know your classmates a bit better through partner collaboration. We look forward to welcoming you to the movement!
Course Details:
Class length: 7-Weeks
Dates: 4/17/18 - 5/29/18
Who is this course designed for? ANYONE who is interested in learning more about the power of healthy soil and regenerative agriculture.
Day/Time: Tuesdays from 7pm-9pm
Location: Online from ANYWHERE or in-person at Kiss the Ground HQ, 4310 W. Jefferson Blvd. Los Angeles, CA
Price: In-person $350 / In-person student: $200 / Online: $125
Are the classes recorded? Yes!
Questions? Email Michelle at: speakertraining@kisstheground.com
Learn more about Kiss the Ground at: www.kisstheground.com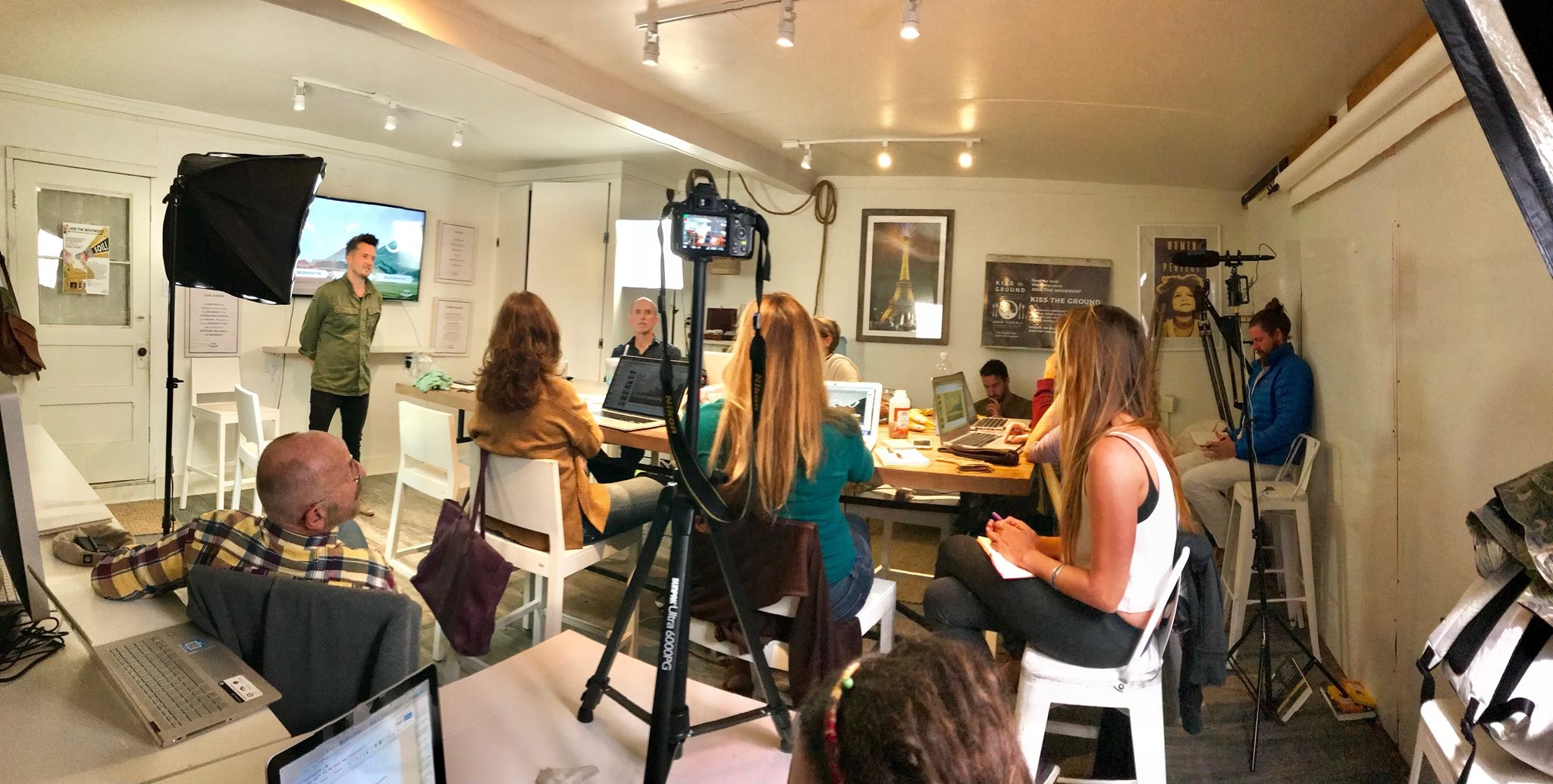 Here's what past students have to say!
"Amazing opportunity to not only learn how to save the world, but how to be a confident and powerful leader in the movement." - Hannah Lacey Riddle
"Our health and the health of the planet relies on a regenerative future and the core principles to implement are taught by KTG Speaker Training Course. I recommend this to everyone to understand the relationship between us and the planet. Healthy soil is the way to a healthy future." - Mimi Riley
"Fantastic! Rich with information. Every class was filled with Aha moments. I am a better person for having attended this course." - Annie Tenwick
"Regenerative Agriculture is our future from the past and this class is easy to follow the best path for our food." - Jude Belanger