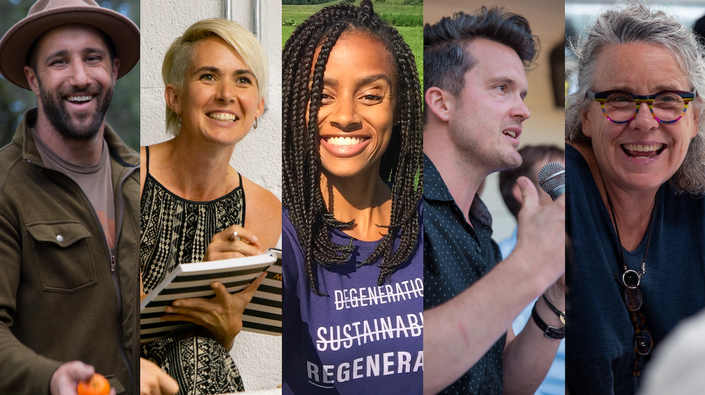 Kiss the Ground Soil Advocate Training (7/2)
Next Course: July 2- August 15 / Online or In-Person in Los Angeles, CA
Watch Promo
Amplify your voice and join a solution-based global community. Become a Soil Advocate.

Since January 2018, we've trained over 1000 Soil Advocates from over 25 countries. They are now actively sharing and implementing the solution to some of the biggest problems facing our planet today. Will you be next?
The next Kiss the Ground Soil Advocate Training Course begins Tuesday, July 2! You can participate in the course online from anywhere in the world or in-person at the Kiss the Ground Headquarters at 4505 Glencoe Ave, Los Angeles, California.
Every successful movement starts with awareness. Awareness spreads from people like you advocating. Healthy soils and regenerative agriculture are one of the most important solutions of our time. We train advocates from around the world to understand and present this critical message. From policy to education, farming, and business ―advocates are on the leading edge of positive change.
Soil Advocate Training is designed for ANYONE who is interested in learning more about the power of healthy soil and regenerative agriculture ―and interested in sharing a real, hopeful solution to some of the biggest issues on our planet today.
You will learn how to powerfully present the topics of soil health and regenerative agriculture as solutions to climate change, water scarcity, and feeding the world. When you participate in this course, you're joining an interconnected group of world influencers transforming the discourse on agriculture and climate change to include the power of healthy soil and carbon farming.
Whether it is discussions at social events with friends, family dinners or international summits, this solution-oriented group will be equipped to usher in a new view that shifts the actions and outcomes of our future!
You will learn how to compare degenerative, sustainable, and regenerative farming practices. We will also spend time working on techniques and confidence building tools for becoming a more dynamic and engaging speaker.
---
Course Details:

Class length: 7-Weeks
Dates: July 2- August 13
Who is this course designed for? ANYONE who is interested in learning more about the power of healthy soil and regenerative agriculture.
Day/Time: Tuesdays from 4:00pm-6:00pm (PST) or 7:00-9:00pm (EST)
Location: Online from ANYWHERE or in-person at The Riveter: Marina Del Rey
Price: In-person $425 / Online: $225
Are the classes recorded? Yes!
Questions? Email Michelle at: [email protected]
Learn more about Kiss the Ground at: www.kisstheground.com
---
Course Curriculum
Week 1
Course introduction & expectations
The big "Aha", We CAN do this! We can rebuild soil, replenish water cycles, and reverse global warming.
Public Speaking Techniques
Discovering your "why" and origin story. In public speaking it is extremely useful to relate to your audience by sharing why you are passionate about this particular subject (the catalyst story of why you are there). It is also important for you to be empowered by and own that story as well.
Week 2
Comparing Degeneration to Sustainability and Regeneration. Humans have been living in a degenerative relationship with nature. Our reaction was sustainability. But will sustaining an already degenerated planet do?
Why "Regeneration" is our best option and what it means.
Public Speaking Techniques: Being with your audience —and being you. How it feels to share comfortably vs feeling of high stakes and pressure. Identifying your preferred subject areas.
Week 3
Building Healthy Soil: Photosynthesis and Carbon sequestration. Learning how plants and soil organisms work together to build healthy soil. A "technology" with over 500 million years of research and development.
Public Speaking Techniques: Building comfort explaining = learning and explaining. How to engage the audience with questions. Plus, relating to the audience from where you are versus pretending you are an expert.
Week 4
How to compare Degenerative Agriculture to Regenerative Agriculture. Compare and contrast the different agricultural practices for building topsoil versus losing topsoil. Understanding the basic principles of regenerative agriculture.
Public Speaking Techniques: Designing your presentation. Choosing key talking points that you relate to and stage one of choosing subject matter.
Week 5
Healthy soil leads to restored water cycles. Understanding the technical potential of restoring small water cycles, recharging groundwater and transforming climate through focus on the plant-soil-water connection.
Public Speaking Techniques: "Table Topics" exercise. Are you saying what you want to say? Sharing your presentation concept.
Week 6
Healthy soil = healthier you. We depend on the nutrients in the food we eat to reach our optimal health, and all those nutrients are made available by soil biology. Learn how to present the similarities between the human microbiome and the soil microbiome.
Public Speaking Techniques: Your presentation - Group 1. (Each student will have the opportunity to give an 8 minute presentation. Online students can submit a phone or computer video recording for review.
Week 7
The "Big 6 Benefits of Healthy Soil." Carbon sequestration, food security, health, water infiltration/restoration, biodiversity/ecosystem services, farmer prosperity.
Public Speaking Techniques: Presentations Group 2, practice, practice, practice.

Taking Action: What's your next step with your new knowledge and how can Kiss the Ground support you.
---
Here's what past students have to say!
"I have been doing regeneration on my farm in South Africa for the last 5 years, but could not put words on what I was doing, much less explain it to anyone outside the project.
This course changed that around completely, and I didn't expect to learn so much as well in terms of concrete practical steps that I am already starting to implement.
At a point where I was starting to lose hope in my own project and started questioning my choices, your course gave me the confidence to talk about what I do like I never could before and given me the breath of fresh air and energy I so direly needed. I know I am not alone and more motivated than ever to carry on with regeneration. Whatever people say, however hard it may be, you guys should know that you are making a difference for real, which I am a very concrete example of. I can never thank you enough for that."
-Etienne Rochat
"This course has really given me the knowledge & the tools I need to feel like I can go out and actually make a difference in the world." - Alana Williams
"Amazing opportunity to not only learn how to save the world, but how to be a confident and powerful leader in the movement." - Hannah Lacey Riddle
"Our health and the health of the planet relies on a regenerative future and the core principles to implement are taught by KTG Speaker Training Course. I recommend this to everyone to understand the relationship between us and the planet. Healthy soil is the way to a healthy future." - Mimi Riley
"Fantastic! Rich with information. Every class was filled with Aha moments. I am a better person for having attended this course." - Annie Tenwick
"Regenerative Agriculture is our future from the past and this class is easy to follow the best path for our food." - Jude Belanger
Your Instructors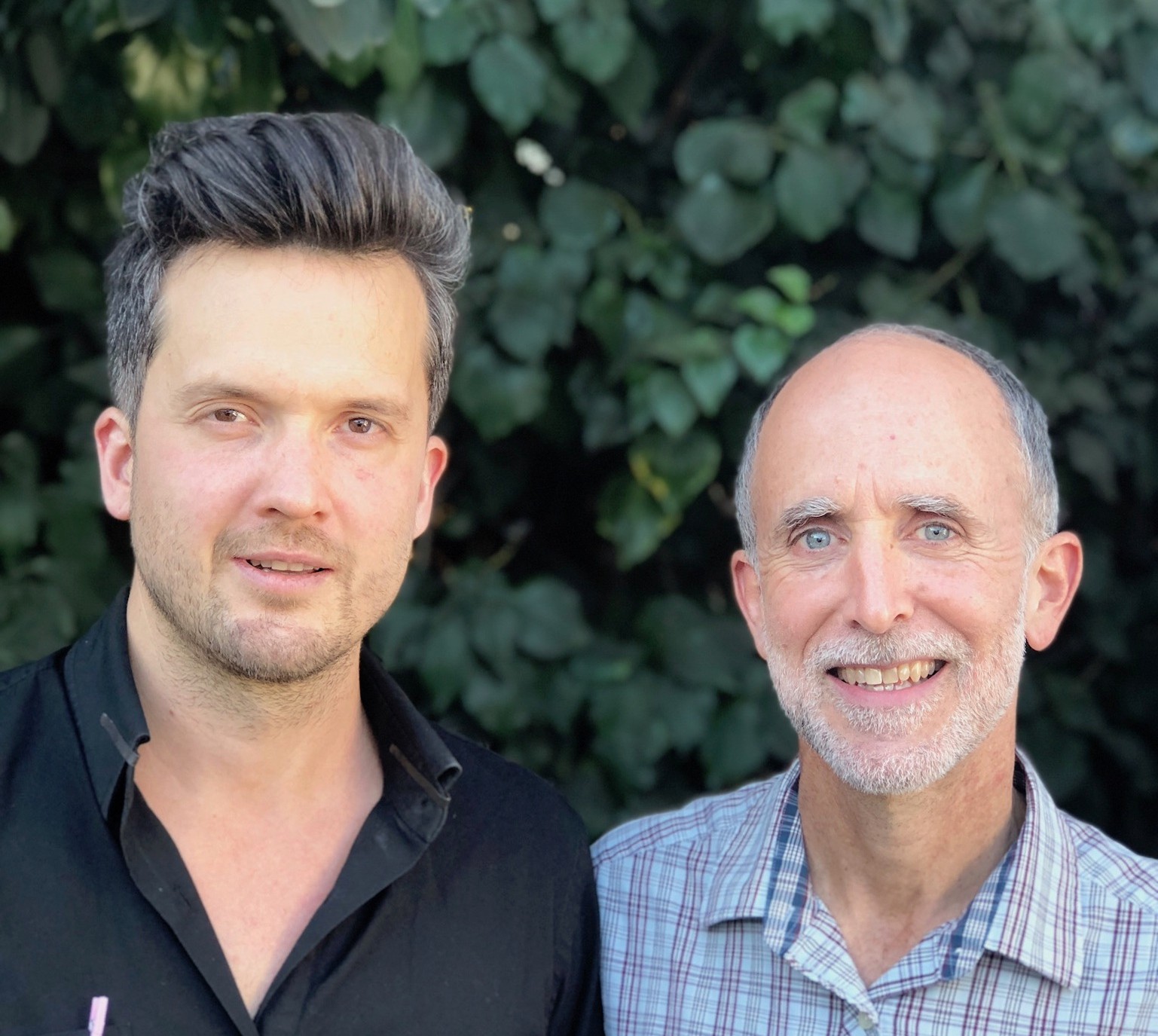 Finian is one of the Co-Founders of Kiss the Ground and Don is part of their Storytelling Team. They are constantly learning about how ecosystems function and then sharing this complex and vital information in engaging and inspiring ways. They have a wealth of knowledge and a passion for getting people fired up about solving global problems.
Frequently Asked Questions
When does the course start and finish?
The course starts July 2nd and ends August 13th​! It can also be taken as completely self-paced online course - you can decide when you start and when you finish.
How long do I have access to the course?
How does lifetime access sound? After enrolling, you have unlimited access to this course for as long as you like - across any and all devices you own.
What if I am unhappy with the course?
We would never want you to be unhappy! If you are unsatisfied with your purchase, contact us in the first 30 days and we will give you a full refund.
This course is not open for enrollment.